FAQ'S
What font do you use / engrave with?
I initially looked to use Military Standard (MS) – MS33558. However, in place of this and other "True Style" fonts, I found "Single Line" fonts engraved well. After a number of test runs I selected "Univers 5L" which is a selectable font from within the Cut2D Vectric (CAD/CAM) software which I use.
I use a text height of 3.4mm approx. Although this can vary between panels.
What Cutting Tool do you use (bit)?
For engraving I typically use – Engraving – 15 deg tip 0.2 – 6mm (See screen shot below for more information relating to that tool). 
NOTE: Spindle speed tends to be between 7000 – 8000 RPM. A lower spindle speed like this combined with a higher feed rate has worked well. Remember – good preparation of the material you are engraving is key.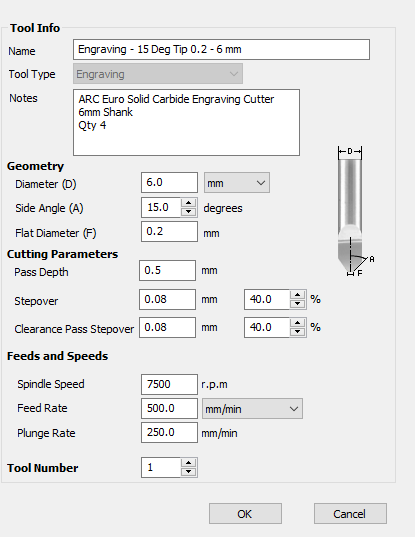 What Toolpath settings do you typically use for engraving?

What software do you use to design the panels?
I use Cut2D by Vectric   http://www.vectric.com/products/cut2d.html
Can you provide an example CAD file for one of your panels?
At the bottom of this page I have attached a downloadable zip file which contains both the "Aux lighting Panel" and "ILS Panel". This is in both Cut2D (crv) and DXF formats (see the "readme" file within the zip for further details)
What type of CNC machine do you use?
My father in law (Phil) is an engineer and built his own CNC machine.  He has very kindly allowed me to make use of this and answered my endless questions around its use and general electronics.
What hardware / software do you use to interface the panels to the sim?
I use two main methods for panel to PC interface.
The first method to get panels to talk specifically to Digital Combat Simulator (DCS) as a dedicated simulator is DCS BIOS. It was designed to work with Arduino microcontrollers, has clear documentation and a growing amount of information online around its use.  DCS BIOS offers the complete package – all inputs and outputs of any supported module cockpit can be replicated and it utilises microcontrollers making it very cost effective.
The second method can be used for any simulator. It is a robust keyboard encoder from Hagstrom Electronics. I use the KE108 because this board is extremely capable in terms emulating a keyboard, mouse and joystick and can be used universally between sims, i.e. a generic fuel panel connected to your PC could work in DCS and then jump across into Microsoft Flight Simulator and it would work there too. Connecting a panel to DCS using a keyboard encoder has the added advantage of not being recognised as a mod because it does not use export lua scripting / code from within the sim which can affect access to online servers, etc. The encoder software is simple to use but very effective as each input can be programmed to send a single response, or a macro sequence of up to 64 keystrokes for both the activation and deactivation of an input. This gives a high degree of control around component behaviour.
The key drawback is it can only input into the sim and cannot be used to output data and in turn bring that alive, for example, LCD/ TFT / segment displays, gauges driven by steppers or servos, etc. So you could not replicate an engine instrument cluster or display radio frequencies.  Also these encoders have a relatively high cost compared to DCS BIOS.
https://www.hagstromelectronics.com/ke-usb108-keyboard-encoder-shp.html
I'm summary DCS BIOS offers the full package and solution whilst being affordable. In practice, I find a mix of both gives the best of both worlds. I already had two KE108 keyboard encoders from eight years prior when I first did a proof of concept Simpit for Falcon 4.0 Allied Force, so made sense to re-use.
What type of wire do you use?
I typically use stranded equipment wire 7/0.2mm – copper conductor or tinned copper and also CAT6 Ethernet cable.
What type of LED strip do you use?
Green 12V strip